Basement conversions have been popular for sometime in London and other cities where space is at a premium.
Having branched into the roof space to accommodate growing families, city dwellers moved their attention downwards to create extra bedrooms, living space and gyms at the basement level.
In recent years, those with more ambitious aspirations, have been able to utilise their basement extensions for the ultimate home luxury; a freshwater swimming pool.
Create a subterranean oasis with a freshwater basement swimming pool
Gone of the days when an indoor swimming pool meant steamy chlorine filled air.
Advances in swimming pool biofiltration technology mean that you can now create your own freshwater spa under your property or garden. Our biofiltration systems do not need planted areas and are perfect for basement swimming pools and other indoor pools where sunlight is limited.
As well as their chemical free advantages, the filters are vastly more energy efficient than those in chlorinated, salt or ozone pools and as such save owners up to £2k a year in running costs.
The pools themselves can vary from the simple to the all-out-extravagant with some clients opting for a basic 2x4m lap pool with swimming current and others creating a subterranean pool oasis and entertaining space.
Converting your existing basement swimming pool into a freshwater pool
If you were an early adopter of the basement swimming pool, fear not.
The smart new technology can be swapped in for your original chlorine filter transforming your basement swimming pool environment into a clean air and chemical free water zone.
Top tips for designing your basement swimming pool
1. Don't scrimp on the pool finish
Go to the expense of tiling your pool. Aesthetically, liners do not work well in indoor swimming pools.
2. Give lighting lots and lots of attention
Good lighting will make the difference between a starkly decorated pool room and that fabulous subterranean oasis. Try and make the most of that ripping water and the reflections it creates.
3. Include anautomated cover in your basement swimming pool design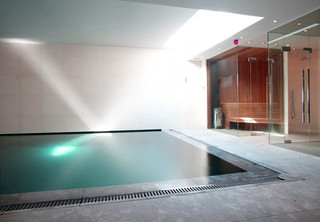 Covers reduce evaporation and help reduce the costs of dehumidification so will assist in reducing your running costs. Automated covers can be built into the design so that they are completely concealed when not in use.
4. Make sure you allow enough plant room space in your plans.
It will be used for filtration, a dehumidifier and air handling unit, a heater and probably storage too so will need to be large enough to accommodate all of this.
5. Think carefully about the position of your steps.
If using a powerful swimming machine in a small basement swimming pool, do not place stone steps at the opposite end or the water will pile up over the end wall.
6. Indoor plants can be used in your basement pool design.
Some natural light will need to enter the room for this to be possible but there is no reason why you can't incorporate planted areas in your basement swimming pool. Contact us for more information about the types of plants you can use.
For further information about freshwater basement swimming pools please get in touch with our team or visit our indoor natural pools section on the website.
Images courtesy of Premier Basements, Unit 14, Timsway, Staines, Surrey TW18 3JY via Houzz.